TOP TALK
What Lit Us Up: Our Favorite Digital Marketing Campaigns of the Year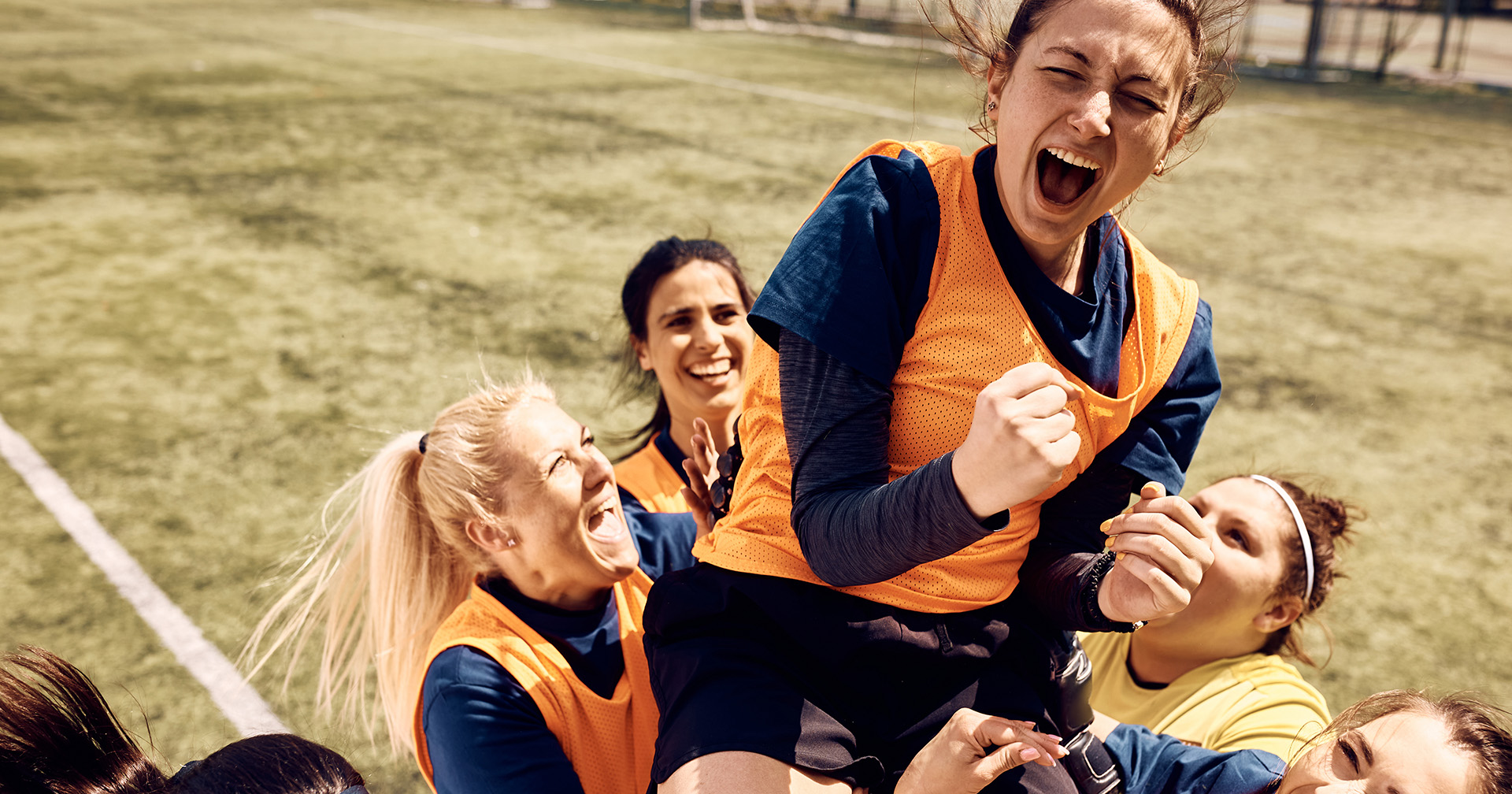 Posted By Ashley Tate on December 23, 2022
2022 was chock full of wonderfully inventive campaigns by brands across the board. Each week our newsletter The Spark features a particularly noteworthy moment in digital marketing in its What Lit Us Up section. As we wind down the year, we're feeling a little nostalgic ... so, we've selected eight of the most striking campaigns from the past year that inspired us with their creativity — we hope they do the same for you!
In a feud for our times, a Sesame Street showdown captured the collective imagination of Twitter: Elmo vs. Rocco. After a 2004 Sesame Street clip resurfaced of Elmo fighting with a pet rock over the last oatmeal cookie, fans and brands alike jumped to his defense, filling Twitter timelines.
What Struck: The outpouring of brand engagement is a testament to the value of social listening and trendspotting. The brands that were most successful chimed in early and authentically by having their eyes and ears on social conversations. And for Sesame Street, its swift identification of the trend allowed the TV program to optimize its own content from almost 20 years ago while engaging in conversations with brands and loyal fans.
The green M&M changed out of her go-go boots and nearly broke the internet. As part of its global commitment to creating a more inclusive society and a world where everyone feels they belong, the Mars Wrigley confectionery updated its branding.
What Struck: The new look of the iconic candy's marketing is just one aspect of the company's efforts to reach its goal of increasing a sense of belonging for 10 million people worldwide by 2025. The marketing move demonstrated that M&M is in touch with its audiences and their changing perspectives.
Amid the catastrophic events of the war in Ukraine, The World Central Kitchen, founded by Chef José Andres, took meaningful action and helped provide food for Ukrainian refugees. The nonprofit was stationed at the Polish border, ready to greet Ukrainian refugees with a friendly face and a hot bowl of soup.
What Struck: Social media has the power to highlight moments of brightness during a dark time. World Central Kitchen continued to provide updates on its efforts on social media, sharing photos and videos from on the ground using the hashtags #ChefsForUkraine and #BuildLongerTablesNotWar to bolster awareness and support for its cause.
In conjunction with Women's History Month, March Madness, and the 50th anniversary of Title IX, Buick launched See Her Greatness to showcase the greatest moments in women's collegiate sports and spotlight bias in sports media coverage: While women make up 40% of athletes, women's sports only receive 10% of media attention.
What Struck: Buick's clever video-based campaign combined the power of audio with a surprising lack of visuals to drive home the inequity between women's and men's athletics. As you create your next campaign, consider how you can use a conventional medium in an unconventional way to catch your audience's attention.
In honor of National Emoji Day, brands like Mercedes Benz, Cisco, and more incorporated emojis into their corporate accounts.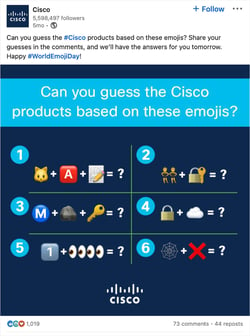 What Struck: Not every social post needs to be so serious. Capitalizing on fun (and unofficial) holidays are a great way to engage with your audience in new ways.
Whiskey brand Johnnie Walker released its First Strides campaign with popular YouTuber, comedian, and proud feminist Lilly Singh in honor of Women's Equality Day. The partnership aimed to promote the brand's plan to help close the gender gap throughout society, beginning with public office, entrepreneurship, and athletics. Singh wrote the original content for the campaign's video, sharing powerful stats on gender inequality. She appears with a posse of women behind her, each of them clutching glasses of Johnnie Walker (neat!)
What Struck: As we've seen time and again, brands have a lot to gain by picking a strong social cause to endorse. Aligning with a social cause and creating relevance for your brand is difficult in the noisy media landscape, but Johnnie Walker found a way to do it by bringing a pop culture icon with feminist street cred into the mix.
Rihanna dropped the exciting news that she would be headlining the 2023 Super Bowl Halftime Show with a playful (and cryptic) post on Instagram showing her hand holding up a football.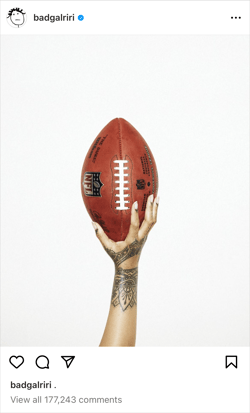 What Struck: Rather than going all out with a multi-channel blitz, sometimes less is more to get your audience intrigued and talking about your major news. As this campaign demonstrates, if you have the right ingredients to break the news with a tease that playfully hints, you just might be pleasantly surprised by the organic and lively engagement it sparks.
After learning that only 32% of Americans recycle, Mentos decided to take matters into its own hands (or in this case, paws) and train some critters to dig through trash cans to find the brand's paperboard gum bottles so they can be recycled. The brand launched recyclable packaging this past February and has been committed to reducing plastics, recycling, and reusing since.
What Struck: We've seen other brands commit to a cause in a meaningful way, but Mentos scores points for its innovation, humor, and completely unexpected partnership with the surprisingly trainable animals. The gum brand also managed to ground the humor in socially conscious messaging, making for a delightful and winning combination.
Spark Your Creativity
While the impact of campaigns may sometimes be short-lived, the ideas they inspire can last forever. For more strikes of creativity and your personal plug-in to all things social and digital marketing, subscribe to The Spark.