TOP TALK
Brands Lending a Hand During COVID-19

Posted By Marian Hughes on March 20, 2020
For most brands, authentically building and strengthening relationships with their stakeholders through corporate social responsibility (CSR) is an ongoing practice. It's something the modern business era can be proud of. And these CSR programs have helped put companies in a strong position to alleviate the impact of our current healthcare crisis.
Some brands are doing a particularly good job of this by taking what they do naturally to a new level. We'd like to share some of the more powerful examples of #BrandsLendingHands over these past few weeks to demonstrate goodwill in this unprecedented time of need. While this situation is still quite new and changing daily, several common denominators are worth noting and commending.
Leading By Example
This past weekend, as several state governors announced the decision to temporarily close restaurants and bars for in-restaurant dining to encourage social distancing, retail brands like Apple and REI made the move to proactively close their retail locations for a few weeks while the threat remains. Staying true to its mission, REI wrote to its customers, "Since our founding, REI has been about doing the right thing for our community … I believe it's our duty — to do all we can to help keep one another safe in this unprecedented moment."
Other retailers soon followed, including Nordstrom, Macy's, Bloomingdale's, Gap's family of brands, Saks Fifth Ave, Neiman Marcus, Anthropologie, and many others. Their plans carefully factor in key stakeholders — many offering a continued paycheck for employees and free shipping and an extended return policy for customers affected by the closures.
Many NBA, NHL, MLB sports franchises and players have also demonstrated leadership in this time of uncertainty, offering to cover the wages of hourly arena employees who are impacted by postponed games.
Problem Solving
Other brands have found ways to use their unique capabilities to support people by proactively solving new challenges presented by remote working, social distancing, and school closures. The online conferencing platform Zoom was quick to lend a helping hand by offering its technology to K-12 schools free of charge and lifting time restrictions. Comcast and Charter Communications have stepped up to simplify online learning by providing free Internet access for the next 60 days to families who can't afford it. Verizon Wireless is offering free international calls to help people stay connected with friends and family living in countries with Level 3 travel warnings. And the education company Scholastic launched a new website to provide resources and supplementary school curriculums to parents with students in grades K-9.
Additionally, supermarkets like Stop and Shop , Target, Whole Foods, and low-cost retailer Dollar General are doing their part by offering special shopping hours to those most vulnerable. U-Haul stepped up to help shoulder the storage costs for students who were forced to quickly pack up their dorm rooms sooner than expected. And in Europe, Netflix and YouTube are reducing video streaming quality to help lower stress on broadband networks during this time.
Many brands are admirably addressing the problem of impending financial stress for individuals and families. Companies like Microsoft, Apple, and Google announced policies to help cover the wages of paid hourly workers employed on their campuses, and others have relaxed and expanded employee paid sick day policies. Banks are also providing numerous methods of relief. For instance, Ally Financial (a Tier One client) is deferring auto and home loan payments for up to 120 days with no late fees, along with other relief provisions. Many telecommunications companies are waiving late fees for up to 60 days. And utility providers like PG&E and ComEd have made a commitment to suspend service disconnects.
Adaptiveness
Another way that brands have demonstrated leadership these past two weeks? Adapting their business models to provide meaningful assistance. The luxury brand conglomerate LVMH, the parent company of high-end fashion brands like Louis Vuitton and Fendi, is repurposing its perfume production line to make hand sanitizer, which has been in short supply. Numerous distilleries across the U.S. are also shifting gears to develop hand sanitizers as well.
Countless examples of business model adaptability exist in the fitness industry as popular gyms are forced to close their doors for the time being. The national fitness chain Orangetheory, for instance, suspended memberships at its temporarily closed studios and is posting 30 minute workouts online daily for members. (Instructors cleverly make use of common household items such as a potted plant or two jars of spaghetti sauce instead of weights during workouts.) CorePower Yoga is also offering online classes to stay connected with members practicing social distancing.
Community
Everyone in our country is being impacted by COVID-19. We are in this fight together to "flatten the curve." As such, brands are thinking beyond their core customers about ways their solutions can provide assistance to everyone — customers and non-customers alike — during this time.
Peloton is one example. The streaming fitness platform quickly broadened its free 30-day app trial to 90 days in the upcoming months, a benefit that all consumers can take advantage of as a source of health and wellness while practicing social distancing. The meditation app Headspace is taking a thoughtful approach. Recognizing the upcoming months will be particularly stressful for workers on the frontline fighting COVID-19, it is providing free subscriptions to healthcare providers working in public health settings for the remainder of the year.
News media outlets are another great example. Most publishers across the country have lifted paywalls in an effort to educate and inform the public about the virus and provide helpful insights about managing life during this unprecedented time.
The examples of brands stepping up and lending hands to help address the challenges presented by COVID-19 are admirable, countless, and increasing daily. We realize these mentions represent only a small portion of the actions brands are taking each day and don't include the millions of dollars in donations that have also been made to community organizations in the past week.
We'll be sharing much more on our social handles in the weeks ahead as the #BrandsLendingHands story continues to unfold. Please join the conversation with additional examples.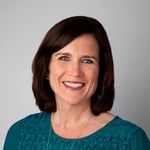 Marian Hughes
What motivates me? Challenging the status quo. I love stepping back and analyzing a PR program to determine if there's a better way to move our clients closer to their goals. I'm constantly scouting out innovative new approaches, tools and technology – anything that holds the potential to really deliver. And, when I discover one with merit, there's nothing more rewarding than getting up to speed, putting it into action and generating big results – that, to me, is hitting it out of the park!